Welcome back to my sourdough series! Today we are going to learn a little bit about how and why we shape and score sourdough loaves (and breads in general). If you're new here, welcome! I'm so glad you found your way to Kitchen Joy. In case you missed it, Part 1 was all about the Sourdough Starter, and Part 2 was all about making a Basic Sourdough Loaf. Stay tuned for Part 4 where we make the best English Muffins ever!
The shaping and scoring techniques required will vary based on the type and shape of loaf you're planning to bake. I've included a sketch that I drew of some of the most common shapes as well as a few videos that demonstrate some of the shaping techniques. I hope you'll feel empowered and inspired to bake some beautiful breads in your own kitchen too. To try out these techniques, simply refer back to Parts 1 and 2 for the recipes for the starter and the bread.
Shaping and Scoring Sourdough: WHY and HOW?
The first thing to keep in mind when shaping and scoring is to know why we do it:
When forming the sourdough into your desired loaf shape, the goal throughout the shaping process is to create surface tension on the outer surface of the dough without affecting the delicate inner dough. This surface tension/taut skin (which Julia Child called a "gluten cloak") serves the purpose of helping the loaf retain its shape during the baking process and to also help enhance the "oven spring" or the bread's expansion while baking.
The purpose of scoring the shaped dough is to control and guide the direction that the loaf expands during the baking process. While it can be a very decorative feature, it also serves a purpose of giving the gases a place to go as the bread bakes.
Sourdough Bread Shapes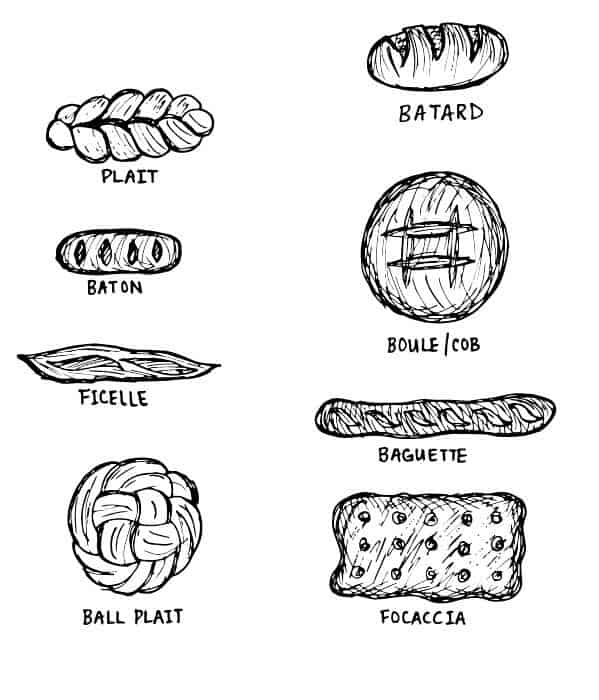 There are several different shapes of bread:
Batard- Similar to a baguette, but shorter and thicker.
Boule/Cob- A round loaf. Boule is the French term, and British typically use the term Cob for this same shape.
Baguette- Long, thin, tubular shaped French loaf.
Focaccia- An Italian flatbread that is fairly thick and has characteristic dimples on the surface.
Baton- A short baguette.
Ficelle- Similar to a baguette but even thinner.
Plait- Braided loaf.
Ball Plait- A round braided loaf.
How to Shape a Batard (Video)
How to Shape a Boule/Cob (Video)
How to Score a Batard (Video)
How to Score a Boule (Video)
I hope that maybe you're feeling excited to get baking some sourdough soon now that you're ready to shape and score sourdough yourself! There's something so incredibly satisfying about creating a beautiful loaf that fills the entire house with bliss just from the aroma coming from the oven before you even slice and enjoy.
Thanks so much for stopping by my site. I hope you'll come back again soon! -Mandy